Post by nadana on Apr 12, 2013 23:03:13 GMT -5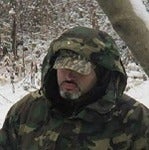 Ought not to be biased against technology because it is ALL technology. Knowing how to manufacture black powder from scratch is an example of a "primitive" skill that is also a modern skill. The "technology" is at least a thousand years old but it is still technology none the less. Smithing is also a technology thousands of years old. Flaking sharp edges off stones and starting a fire with a hand drill are technology as well, just a bit older.
And there exist survival skills far older then those. I am minded of a special chimp who figured out the best way to extract honey from a hive using several specially crafted tools. Soon all the other members of her troop were copying her. Her troop now has an evolutionary advantage over their neighbors. Technology marches on.
Guess what?
In a hundred years, axes and knives and ferro rods are going to be seen as "primnitive".

They'll just have a laser that'll cut everything and start fires and signal for rescue and cook food.
LOL
I'll just agree to disagree.
Technology, in the sense of tools is great. Can't imagine doing some things w/o power tools, yet, if we didn't have a source of power, we'd be forced to. Necessity being the mother of invention and right now, I don't want to reinvent the wheel. The need doesn't exist
right now
. Given the collective knowledge of past & present tools, it wouldn't be hard to come up with what is needed at the time.
Technology in the sense of electronics used for games or entertainment is a drag on society, especially the degraded, violent type of 'entertainment'. It makes us* numb to any empathy when faced with real situations affecting others. Say seeing someone hurt and not helping, being hardened, etc.
*Not that we, meaning you or I, but rather others we often read about, watching a woman get stabbed, a purse snatcher run off with many onlookers and so on. That type of new technology is bad, imho.
Oh yeah, the future laser should also help us hunt, make an enclosed shelter to warm/cool and keep us safe when sleeping.