Post by sharpdog on Apr 10, 2014 7:28:02 GMT -5
How to Go Canoe Camping - 17 steps and checklist:
When camping in true wilderness areas, beware of bears and wildlife. Cooking meat and fish on a open campfire will attract unwanted animals. Even the drippings from foods cooked over a fire remain in the firepit and can be smelled from miles away. You don't want to be awakened in the middle of the night to find a spooked bear looking for something to eat. It might be you!

Keep your food well contained. Raccoons are notorious thieves and will take away any loose food they find. They can also carry away and open simple and small containers. Don't give them a chance.
As noted above, if you must use the river bank as a bathroom please bury your waste. Property owners don't want to see this and you or someone else may have to camp on that bank.

If you are planning on bathing while on your canoe trip, use a soap that is biodegradable, such as a real soap, like Ivory, (not a deodorant bar or liquid body wash). Some camping soaps are available at camping and fishing supply stores. It is important not to use deodorant or antibacterial soaps that pollute the land and water.
Beware of poison ivy. It can often be found on riverbanks. It is a good idea to wash with a grease cutting soap, such as mild dishwashing liquid, after a portage.

Land owners are often lenient with you using their property as long as you respect it. Carry in, carry out. Always leave a campsite better than you found it.
How to Go Canoe Camping - 17 steps and checklist
How to Plan a (Successful) Canoe Trip by Darren Bush:
Canoe tripping is part of the fabric of the North woods. It was the canoe that carried Native Americans throughout North America. Canoes brought the first Europeans into the interior of the frontier to trade and proselyte. And it was from the inside of a canoe that Lewis and Clark explored and mapped our new nation.

So it is no wonder that the idea of paddling away from civilization and into the wilderness has always held great romantic appeal for men. What man has not sat at his desk, surrounded by the walls of his cubicle, and closed his eyes to imagine gliding through the water of a clear river, surrounded on both sides by emerald forests or vibrant fall foliage?

But it needn't remain a mere fantasy. Canoe tripping is not only romantic, it's also a very practical way to camp.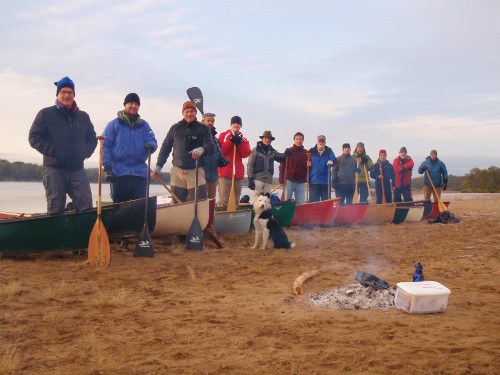 How to Plan a (Successful) Canoe Trip by Darren Bush
Canoe Camping By Beth Geiger
Take a week to paddle along a pristine coastline or down the natural highway of a river. Experience the satisfaction of self-sufficiency and the pleasure of being able to fish a remote lake at first light. Introduce your children to their first real wilderness experience. These are some of the reasons many of us want to be paddlers.

This article provides some guidance and tips on how to be a knowledgeable and environmentally responsible canoe camper. From planning an itinerary to becoming a low-impact wilderness user, we hope your overnight trips will be some of the best times you'll ever have.
Canoe Camping By Beth Geiger
Canoe Camping Checklist:
Canoe Camping – Moving from place to place, in a canoe or kayak, with your camping gear on board, beaching your craft and setting up camp. The temptation in canoe camping is to take everything that your boat will carry. And that's a lot.
Canoe Camping Checklist
Canoe Camping Checklist by Joe Kegley:
The following link is to a pdf file containing suggested gear for car tent camping and/or canoe tent camping.

Realize this is an all-inclusive list of various items we have used at one point or another during our camping endeavors. Depending on your objective, much of the gear may not be necessary. Take what you need to fulfill your goals.
PDF: Canoe Camping Checklist
Canoe Camping Checklist by Joe Kegley